June is Seniors Month! This is a month in which we celebrate and honour the enormous contributions that our elders have made in this beautiful land that we call home. This year's theme is "Stay Safe, Active and Connected," and our government is keeping seniors safe during the pandemic by improving programs that serve their unique needs.
Our government knows that inactivity and social isolation can negatively impact older Ontarians. That is why we have increased, and expanded, the programs available for our aging parents, family members, friends and neighbours so that they can stay healthy and socially connected in our communities despite the necessary public health measures currently in place.
I am proud of the programming my office and I have offered throughout the pandemic dedicated to our seniors, including offering grocery assistance and care packages for homebound seniors, as well as producing our very-own seniors newsletter to ensure seniors in Mississauga Centre had the latest information on programs and resources offered by our government.
With this in mind, our office is offering a number of virtual events to better connect with seniors in our community, which we invite you to register for below. If you have any questions or concerns, please do not hesitate to reach out to us via telephone at (905)-890-1901, or by email at [email protected]
I look forward to seeing you at one or more of our events. Take care and stay safe!
MPP Natalia Kusendova
Virtual Game Night
June 18 at 2pm
Join MPP Kusendova for a virtual game night playing a game called Touring Ontario in which you will be able to visit Ontario landmarks while not leaving your home!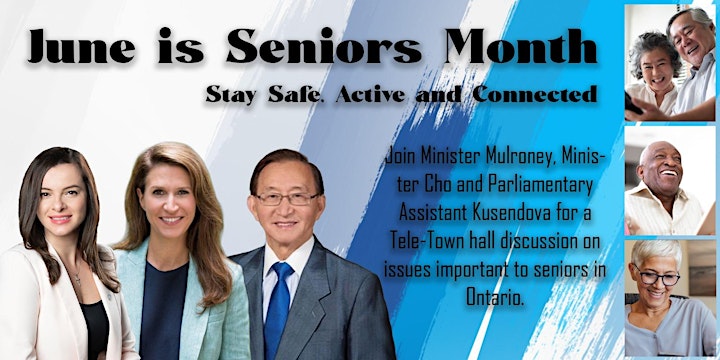 Tele-Town Hall
June 24 at 11am
June is Seniors Month. This year's theme is stay safe, active and connected. Join Minister Mulroney, Minister Cho and Parliamentary Assistant Kusendova for a Tele-Town hall discussion on issues important to seniors in Ontario.
Healthy Eating for Seniors
June 24 at 7pm
Join an informative session led by a local dietician discussing how dietary needs change as we get older. 
Fraud Prevention
June 25 at 11am
Join Constable Michael Wood as he discusses fraud schemes directed at seniors and how to protect oneself from getting cheated.